Invisalign is a modern orthodontic treatment designed to help patients achieve a straighter, more beautiful smiler through discreet means. Although there are no metal arch wires and brackets, this process incorporates the same principles that traditional braces make use of; both devices exert a consistent degree of pressure on your smile which encourages your teeth to move over time.
We provide Invisalign in Calgary for patients who are looking to achieve the smile they've been dreaming about. Come in and talk to our staff to learn how to get started.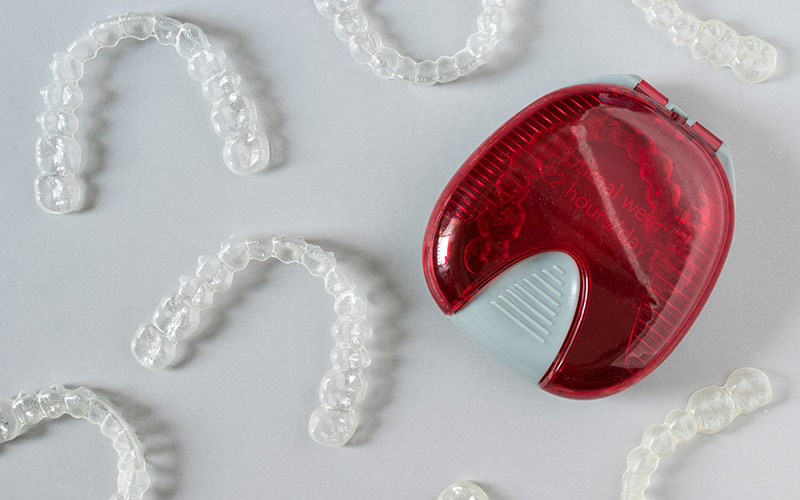 Invisalign is arguably the most well-known form of clear aligner therapy. It's gained a lot of popularity over the years because of its effectiveness and subtleness. High-grade dental plastic is used to fabricate clear or "invisible" trays customized to fit over your teeth; this is achieved by taking digital impressions.
Your trays are removable, but they must be worn for at least 22 hours every day to achieve optimal results. And, just like traditional or ceramic braces, you'll need to come in for periodic check-ins with your dentist or orthodontist. During these visits, they'll give you a new set of trays to ensure that your teeth continue to straighten.
If you have any questions about your uniquely tailored orthodontic journey, or you have concerns about receiving Invisalign near you, we encourage you to speak with your dentist. They'll walk you through the entire process from start to finish so you feel comfortable and know what to expect.
Patients who are eligible for this course of action may experience many advantages, including, but not limited to:
It's comfortable! The plastic won't irritate your teeth or gums. 
You don't need to change your diet – just take out your trays during mealtimes!
Fewer checkups are required.
It'll boost your self-esteem. You won't have to worry about any feelings of embarrassment because your trays will blend right in with your natural smile. 
It's easier to maintain good dental hygiene. This is primarily because you can take out your trays to brush and floss. 
It works! 
Your aligners will fit your smile perfectly.
Fewer chances of orthodontic emergencies.
Though the process may seem long at times, remember, it's worth it. You'll be left with a glowing smile you'll be happy to show off.
Are you looking for reliable, convenient treatment for Invisalign in Calgary? Come into Glamorgan Dental today! Our staff is standing by to assist you however you need. 
To book an introductory appointment, give our clinic a call or go to our website and fill out the form.