Most, if not all patients, are familiar with dental x-rays. This process is often combined with a dental examination and cleaning. It allows your dentist to examine in between your teeth and below the gumline to see areas that are not readily visible to the naked eye.
The integration of digital x-ray technology is extremely common in dental practices.  Not only is the process instantaneous, but it is extremely safe. In fact, digital x-rays emit significantly less radiation than traditional x-rays, which already emit very little. 
To schedule your dental examination and x-rays, contact our local dental clinic.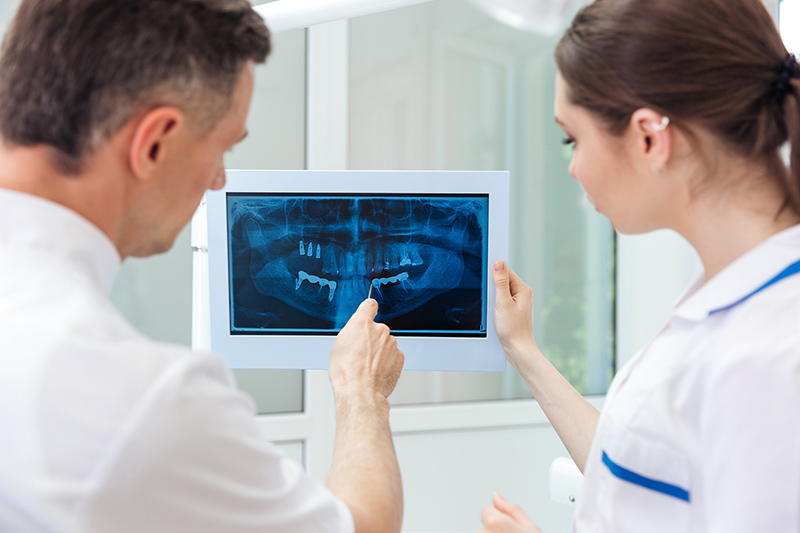 X-rays can aid dentists when it comes to identifying oral health issues and recommending the correct mode of treatment.
Noted below are just some of the things that dental x-rays can shed light on:
Problems within a tooth
Bad tooth and/or root alignment.
Decay.
Bone deterioration.
The presence of a cyst or abscess. 
Tumors – both non-cancerous and cancerous.
Poor tooth development or missing teeth.
Jaw issues.
Having x-rays taken is a quick and painless process; it'll be over in less than 5 minutes! If you have any questions or concerns at all, don't hesitate to let your dentist know.
How Often Are X-Rays Taken?
The number of x-rays that need to be taken will vary from patient to patient. It all depends on the current state of your oral hygiene and whether your dentist thinks it's necessary. Generally, most patients will have them done once or twice a year but if you're dealing with more complex problems you may need to have them more frequently.
Book a Visit for Dental X-Rays Near You
Our team is excited to welcome you to our clinic and work with you to achieve the smile you've been dreaming of. If you're ready to set up a examination, our staff can be reached by phone, email, or you can stop by our location in person.
We'll see you soon!